Frequently Asked Questions
The Life of a
SPH Student
We prepared a list of frequently asked questions received from parents. If you have other queries, please feel free to contact us. Our Admissions Counselor will gladly respond and assist you and your family through your SPH journey.
What are the advantages of SPH compared to other schools?
SPH is a Christian school emphasizing transformational education, which focuses not only on children's knowledge but also on their faith and character.
The school environment is supportive and enjoyable for students while maintaining high educational standards.
SPH's accreditation includes international standards of education, association, and membership particularly CIS (Council of International Schools), ACSI (Association of Christian School International), Christian Schools International (CSI) and both the IB (International Baccalaureate) and Cambridge programs (depending on campus).
Teachers are recruited locally as well as overseas, including countries such as United States, Canada, Australia, New Zealand, Philippines, China, Korea and India.
The teaching methodology follows international best practices.
Students are challenged to succeed academically and encouraged to reach their potentials in cultural aspects, arts and athletics.
Students are equipped to be intelligent and creative visionary leaders with good character.
Students gain appreciation of Indonesian / Asian identity.
My child is from a local school with minimal English. How can my child understand the material in English?
In essence, the younger the children are, the easier it can be for them to understand the material. This is an advantage as younger students have a higher likelihood of improving their English skills and further developing their critical thinking capabilities.
SPH entrance tests measure your child's English skills. We highly recommended that the tests be administered as early as possible to fully determine your child's proficiency in English. Re-testing is possible, approximately one or two months before the school year begins.
How qualified are the teachers at SPH?
Indonesian teachers demonstrate good English-speaking abilities. All teachers profess active Christian faith and have fulfilled teaching qualifications with proven experience. SPH encourages its teachers to undergo further training.
Does the school provide Mandarin language?
Yes. We have a Mandarin program, which is compulsory for K1 – K3 but optional for Grades 1 – 12.
How is the teaching method in the classroom?
In-class teaching is based on active learning using the inquiry method and holistic method. In Junior School, students are exposed to reading and writing skills that aid in their ability to analyze, synthesize and evaluate. These skills, which support tasks and assessments that involve creating, researching and presenting, continue to the MYP wherein the method becomes interdisciplinary and utilizes more content in lessons.
What are the school's policies in regards to student handphones and other personal items?
We are aware of this matter and enforce strict regulations in handling social life issues. Regulations and policies are explained in the Parent Handbook for Junior School and in the Student Agenda for Senior School.
How does the school deal with bullying issues?
Bullying occurs in all schools. SPH treats the matter of bullying very seriously, as explained in the Parent Handbook. Bullying cases are rare and students will be disciplined according to disciplinary policies.
What kind of parental involvement is expected at SPH?
The success of a child's education depends on his or her family. Planting basic principles of life, love, discipline and values begins at home. School is only an extension of family support. Therefore, it is very important to choose a school that has the same vision and ideals as your family. SPH helps parents become better through parent seminars, parent talks, and fathers' gatherings held throughout the school year. We consider it necessary to equally equip parents so they can better develop their children in facing potential challenges before significant problems arise.
My child is from a local school. How easily could my child catch up with this kind of methodology in a full-English language environment?
The younger your child learns this method, the easier your child can catch up with this methodology. Students in Early Childhood – Grade 2 usually adapt within approximately 3 months, while students in Grades 3 and 4 take about 6 months.
For higher grade levels, such as Grade 5 or above, your child may need more time to adapt.
What is covered with the SPP?
The SPP includes fees for textbooks (provided during the school year), retreats and field trips, Mission Service Learning trips, sports facilities (swimming pool, gymnasium, soccer field, tennis courts), music facilities, libraries, computer and science laboratories, food technology and wood technology workshops, health center and a parenting class.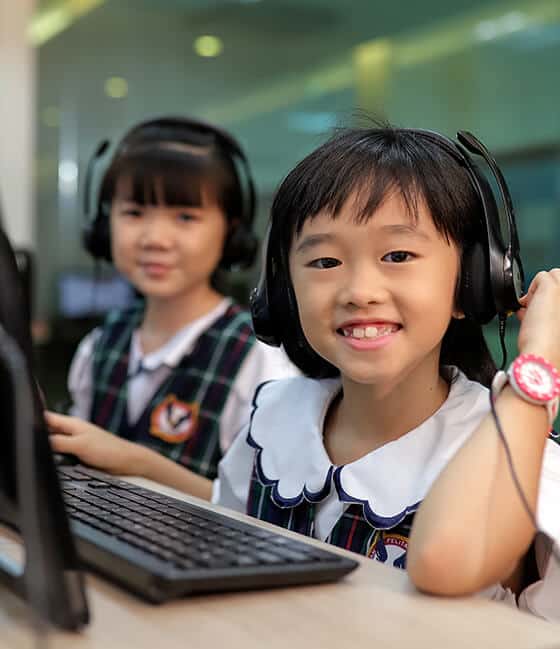 We would love to hear from you! If you'd like to speak to any of our Admission Counsellors, just reach out to us.
Discover More
SPH Scholarship
An Opportunity for the
Gifted
If you are an aspiring, confident, and well-rounded high achiever, we would like to invite you to apply for the SPH Scholarship program.
We are on the lookout for brilliant all-rounders who are eager to apply for our prestigious scholarship program. The SPH scholarship is available for students from Grade 7 to 10.
Learn More