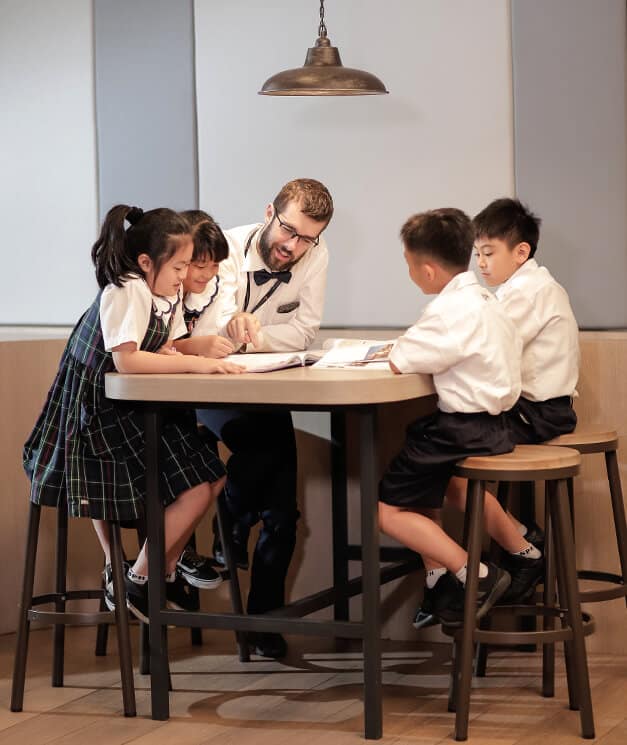 Choosing the right school for your children is not an overnight decision. As you take this step to give your children a learning experience like no other, we want to put you on a seamless start by making this application process as easy as possible for you.
1. Create your account
Begin your application process by creating an account in our application portal. Every family will have one account for all their child/ren. Select your preferred campus from the list below, where you will be redirected to each campus' application form and be guided along the way.
2. Submit application
Once you've created an account, fill in and complete all required fields.
3. Upload documents
Here's a list of the required documents you will need to upload*:
Birth certificate

Passport

Family Card (Indonesian student)

KITAS (International student)

Report card from the past 3 years of studies
*All must be formally scanned in color
4. Pay the application fee
For details regarding the application fee for each campus, please visit our school fee page.
5. Get your test/observation and interview schedule
Your dedicated Admissions Counselor will contact you to schedule a test or an observation by email, WhatsApp, or phone.
Our testing will be age-appropriate with varying duration depending on the child's age. To know what is covered during this test, contact our Admissions Counselor, who will gladly guide you through this process.
After the test, our Academic Team will meet prospective student(s) to get to know each family better. This interview process will take place on the same day as the test.

6. Await the result
We will email you your child's test result within 5-7 working days or more if your child follows the collective test schedule.
6 Steps to
after Acceptance
Once you have received your acceptance letter, our Admissions Counselor will guide you through the rest of the admission process. Below are snapshots of what to expect:
Step 1: School Fee Payment
Refer to your acceptance letter for information regarding your payment due dates, terms, and conditions.

Step 2: Complete the required documents
Double-check your document checklist in the application portal to see if there are any more documents you need to submit to complete the acceptance process.
Step 3: Purchase school uniforms and supplies
All school uniforms and supplies can be purchased through our online and onsite bookstore. Visit our online bookstore to learn more. Your dedicated Admissions counselor will update the timeline for you.
Step 4: Getting your ID Card
Before the school year starts, you and your child may visit the Marketing Office to take your family's ID card photo. Our Administrator Officer will distribute the ID cards once they are ready.
Step 5: Class and schedule information
For a smooth transition, we will share all class schedules and information a few days before school starts. It will include details of the class timetable, contacts of teachers, and Class Parent Representative (CPR). We will also invite you to a New Family Orientation before the new academic year starts.

Step 6: Keeping in touch with the school
We want to keep you informed and up to date about your child and all things SPH related. To receive the latest updates, we will inform you of your campus administrative contact, who will be the primary touchpoint for all school-related things.